How can you take part?
Did you ever wonder who funds Birthright Israel trips? Did you ever wonder how much does it cost to send each participant on the 10-day trip? While it previously cost $3,500 to send each participant on a 10-day Birthright Israel trip, over the past two years, with rising inflation impacting everything from airlines to hotels to restaurants, the $3,500 trip fee increased by 30%. Multiply that by 800,000 participants since inception or tens of thousands of participants annually and you can do the math: While demand is skyrocketing, Birthright Israel is a massive financial undertaking.
Yet the funding around Birthright Israel has long been vague or misunderstood by the Jewish community; in fact, it's a common myth that funding comes from very few major donors and the government of Israel. In reality, it's a collective pool of 40,000 donors, including Foundations, Federations, individual donors, parents, and trip participants, who regardless of how much they donate, share our mission of giving every young Jewish adult the opportunity to visit Israel.
Another common myth is that the funding exists for years to come but the truth is that the Birthright Israel Foundation in the US and the fundraising arm for worldwide donors based in Israel are working tirelessly each year to secure the necessary funds for the next year of operation.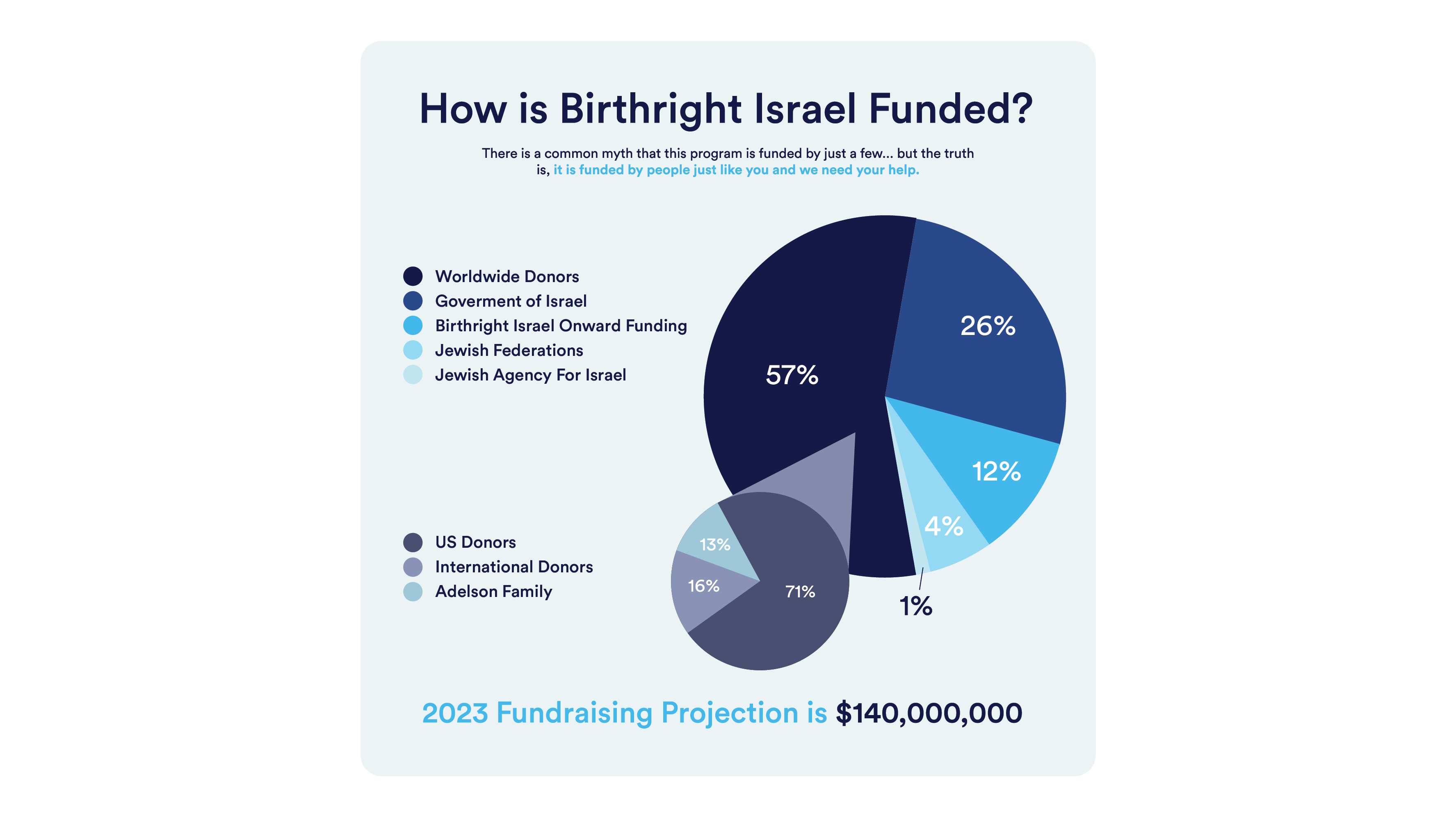 Paying it Forward
Many Jewish children and young adults grow up in a world where the 10-day trip is a rite of passage to look forward to—a birthright in every sense of the word. Our values extend beyond the "free trip"; it affords participants the opportunity to forge a powerful connection to their Jewish Identity and the Jewish homeland. Sleeping under the desert stars, hiking Masada at sunrise, floating in the Dead Sea, and eating delicious, traditional Israeli cuisine: these are the moments young Jews dream of, and we need your help to ensure these transformational life moments stay a reality.
The reality is that in 2023, we left 25,000 applicants behind due to financial challenges beyond our control, including rising costs and elevated demand. And now it is only with the broadest support of our community that we will be able to achieve our mission in 2024 and beyond.
Today we are calling on the Jewish community to help us ensure the program remains available to as many young Jewish adults as possible and keep our promise to fulfill their Birthright.
Although over 800,000 Jewish young adults have gone on a Birthright Israel trip, only a small percentage of those participants have donated to the Birthright Israel Foundation. If every Birthright Israel alumnus donated only 50% of the trip deposit, we could gift 1,200 more participants their birthright every year. It can turn out to be your best friend, next-door neighbor, or a family member.
Whether you are a recent or past alumni, please join our 40,000+ donors and help sustain these life-changing trips for the years to come. No gift is too small to make a difference. The future of the Jewish people is a shared responsibility, and every dollar contributes to a stronger future for us all. Donate here!